12 Low FODMAP Vegan Smoothie Recipes
It's not easy to find yummy, nutritious low FODMAP vegan smoothies on the internet…so I thought I would round up a few for you! These low FODMAP vegan smoothie recipes run the gamut from fresh + green to rich mocha to berry, so there should be something for every craving!
One of the most important things I learned early in my a career as a dietitian is that nutrition advice is all well and good…but if you don't know how to turn that advice into dinner (or in this case, a smoothie) how are you supposed to follow the eating plan your dietitian recommends?
If you're vegan, and want to try a low FODMAP meal plan to help you get your IBS symptoms under control, the wonderland of free internet recipes tends to dry up in a hurry, which is why I'm committed to developing more vegan low FODMAP recipes this year. On the path to building up that library for you, I'm rounding up the best of the old internet to get you started on your meal planning.
How to make a low FODMAP smoothie
You've got Qs…I've got As! Have a question you think I should add to this list? Just share it in the comments!
Which protein powders are low FODMAP?
There haven't been a lot of protein powders tested by Monash University for FODMAPS. Brown rice protein and HUM Nutrition Core Strength have been tested but I also like Botanica Perfect Protein in Vanilla, which should be low FODMAP because it's made from low FODMAP ingredients: quinoa, coconut and brown rice. Hemp hearts are a great whole food option for boosting protein and omega 3s.
12 Low FODMAP Vegan Smoothies
SOOOOOOO…I waded through a lot of recipes to get to this list! There were so many smoothies out there that said they were low FODMAP but didn't actually meet low FODMAP servings. And, because of the smaller ingredient palette available, a bunch of smoothies that were pretty much the same. These are the best of the best, in my opinion! And I am adding new low FODMAP vegan smoothie recipes to this list all the time.
This fresh and juicy papaya lime smoothie is a mini vacation in a glass! It's vegan and low FODMAP, so it's great for sensitive tummies or folks with IBS too.
Get the recipe
This sweet-tart pina colada smoothie is creamy yet refreshing and made from just a few simple ingredients. Vegan, low FODMAP and a great on-the-go breakfast!
Get the recipe
Packed with gut-healing ingredients like hemp seeds, psyllium and a liquid probiotic, this yummy low FODMAP smoothie is the perfect way to start the day.
Get the recipe
This Pineapple Green Smoothie Bowl is Low-FODMAP and very refreshing. Get a serving of spinach and dress it up with your choice of toppings!
Get the recipe
To keep this smoothie low FODMAP, all you have to do is reduce the 1/2 banana to a 1/3 of a banana! Or, use an unripe (still a bit green) banana.
Get the recipe
This creamy low FODMAP Oatmeal Cookie Breakfast Smoothie is a healthy option while having a flavour that's reminiscent of a fresh batch of oatmeal cookies! To keep it low FODMAP, measure the almond butter exactly and use an unripe (still a bit green) banana.
Get the recipe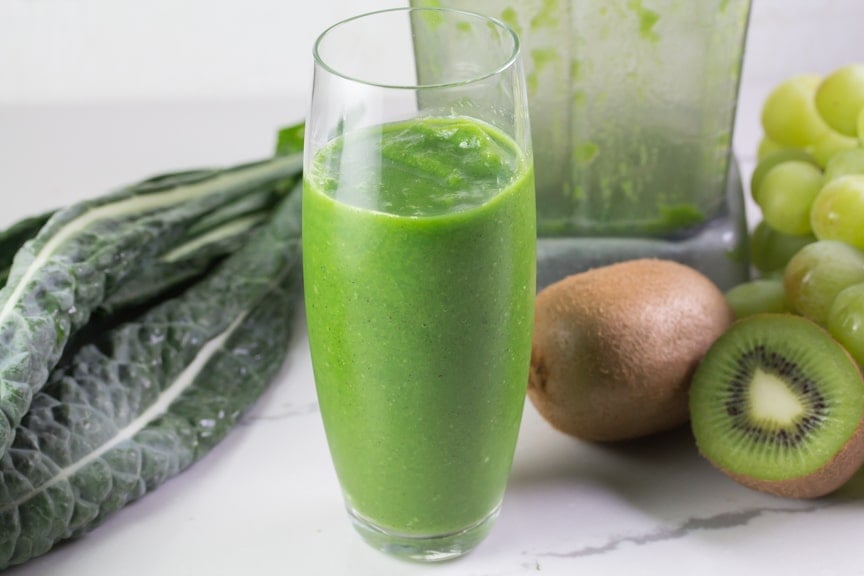 This FODMAP Everyday Green Kiwi Smoothie is our signature drink featuring sweet and tart kiwi and grapes as well as greens. Vitamin and fiber packed.
Get the recipe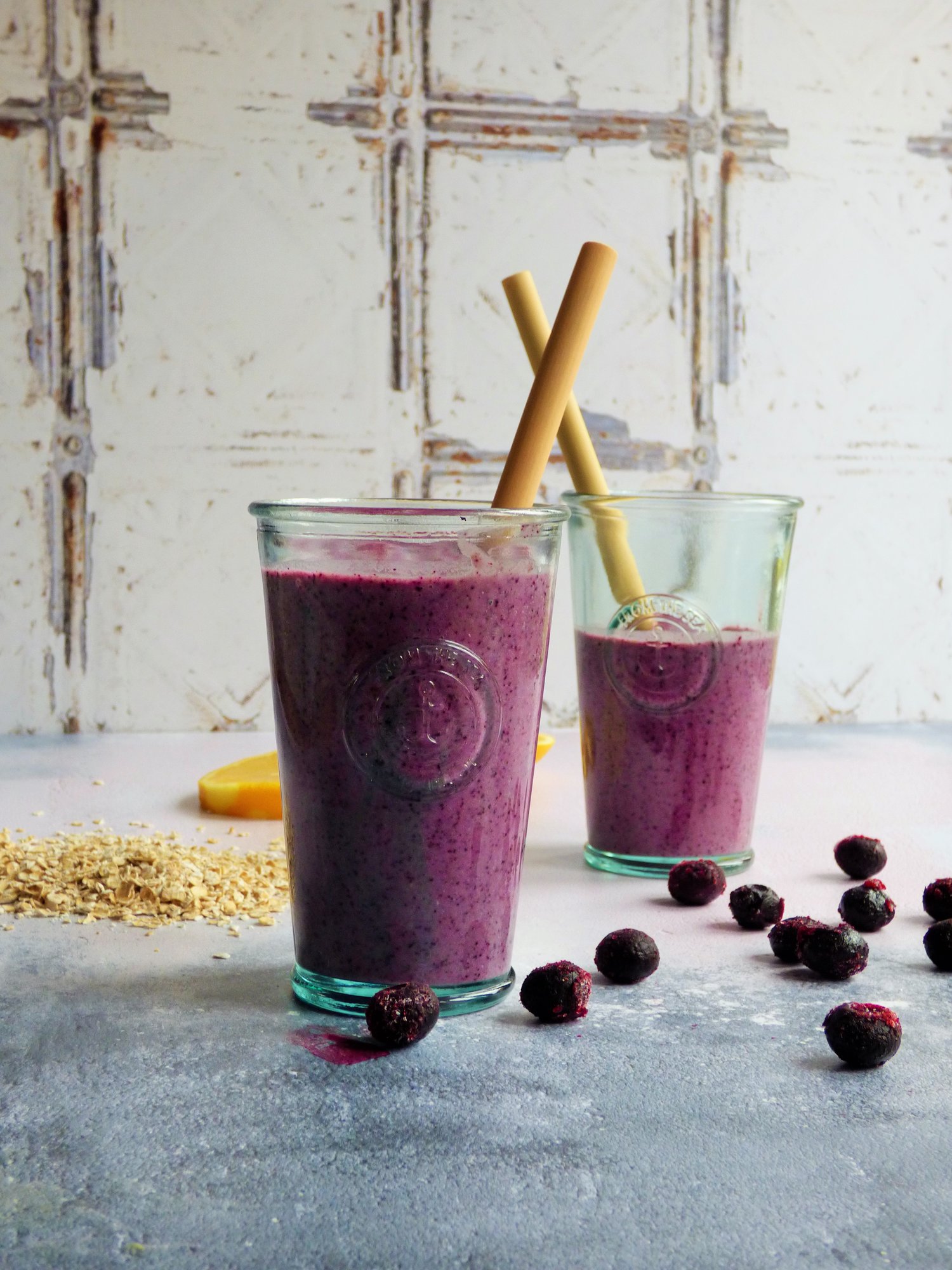 I really wanted to include a blueberry smoothie, so heads up: you need to keep the blueberries to just 1/4 cup, not 1/2 cup as the recipe states. So I recommend adding 1/3 of a ripe banana for extra flavour and texture.
Get the recipe
YAY PUMPKIN!! There are a lot of green smoothies on this list so this is fun. I'm gonna sound like a broken record here buuuuut….make sure the banana is unripe or use just 1/3 of it.
Get the recipe
Kale and orange are such a fresh and grounding pairing…you know the drill re bananas.
Get the recipe
DOWNLOAD YOUR FREE LOW FODMAP STARTER KIT HERE!
Looking for more Low FODMAP Vegan Recipes?
12 Low FODMAP Vegan Smoothies: Chocolate Peanut Butter Smoothie
Chocolate and peanut butter is a love language. This low FODMAP vegan smoothie has all of the flavours you crave plus enough protein and healthy fats to keep you feeling satisfied!
Leave a Review »
Pin
Print
Ingredients
⅓ ripe banana, or use 1 small unripe banana, which is also low FODMAP
1 cup of your favourite low FODMAP plant-based milk , macadamia, almond or rice
2 tablespoons hemp hearts, (learn about the benefits of hemp hearts!)
1 heaping tablespoon peanut butter
2 heaping teaspoons cocoa
1/4 teaspoon cinnamon
a few ice cubes
Optional, to taste
1 tablespoon maple syrup
1 shot espresso, or 1/4 cup brewed coffee
Instructions
Get ready for some serious effort: blend until smoothie…and enjoy!
Notes
Low FODMAP notes: 1/2 medium banana or 1 unripe (still a bit green) banana is low FODMAP. If you're not low FODMAP, use a full ripe banana!